Colour LED Tubes – Premium Series
The Colour LED Premium Series is manufactured with white non-rotatable end caps, a frosted milky cover lens, 26mm Aluminium housing and it is powered with live and neutral on one side. The Premium Series LED Tube comes with a 5-year warranty.
Available Sizes: 330mm, 600mm, 900mm, 1200mm, 1500mm, 1800mm and 2400mm.
Available Colours: Light Pink, Dark Pink, Red, Blue, Green, Amber/Yellow.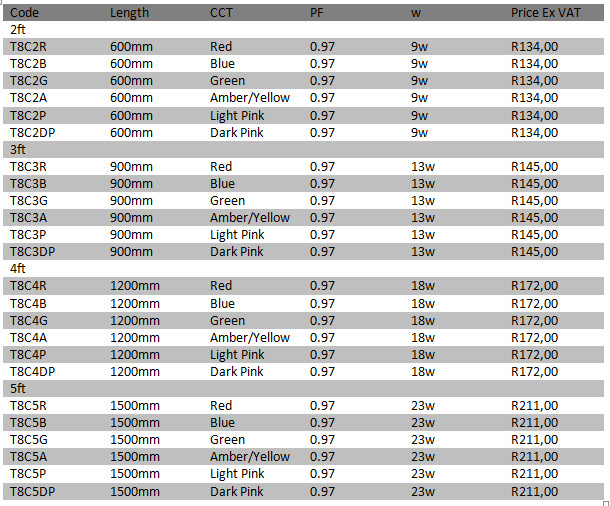 The LED Coloured Tubes are priced as a custom Tube as they are manufactured to a specific order. Any customization or upgrade is included in the price. Available in T5 and T8.
| | |
| --- | --- |
| • Your own Logo may be added | R0,00 |
| • Change to rotatable end caps | R0,00 |
| • Change to clear lens | R0,00 |
| • Power can be changed to both sides | R0,00 |
GL lighting is proud to present to you our Coloured Series Tubes. The "Colour Tubes", as they are commonly known, come in a 9w 2 foot, 13w 3 foot, 18w 4 foot and 23w 5 foot. We are based in Edenvale, Johannesburg, South Africa. We supply LED lighting to the Southern African market including Zambia, Botswana, Chad, Egypt, Mozambique & Namibia. The entire South African geographic area is also covered including but not limited to Cape Town, Durban, Pretoria, Bloemfontein and East London. These Coloured Tube lights come with a 5-year warranty. For more information on our Standard Series lights please do not hesitate to contact GL lighting at www.tubelights.co.za or info@gllighting.co.za.