12V OR 24V DC LED RIGID STRIP LIGHT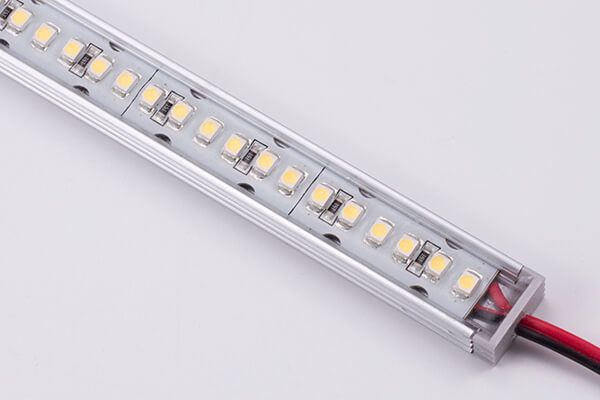 | | | | | | | |
| --- | --- | --- | --- | --- | --- | --- |
| CODE | LENGTH | WATTS | COLOUR | 12V OR 24V DC | LED | Price Ex Vat |
| SLET3DC | 4CM | 0.6W | SEE BELOW | YES | 3 | R25.50 |
| SLET6DC | 8CM | 1.2W | SEE BELOW | YES | 6 | R29.25 |
| SLET9DC | 12CM | 1.8W | SEE BELOW | YES | 9 | R32.25 |
| SLET12DC | 16CM | 2.4W | SEE BELOW | YES | 12 | R36.00 |
| SLET15DC | 20CM | 3.0W | SEE BELOW | YES | 15 | R39.75 |
| SLET18DC | 24CM | 3.6W | SEE BELOW | YES | 18 | R43.50 |
| SLET21DC | 28CM | 4.2W | SEE BELOW | YES | 21 | R47.25 |
| SLET24DC | 32CM | 4.8W | SEE BELOW | YES | 24 | R51.00 |
| SLET27DC | 36CM | 5.4W | SEE BELOW | YES | 27 | R54.75 |
| SLET30DC | 41CM | 6W | SEE BELOW | YES | 30 | R58.50 |
| SLET33DC | 45CM | 6.6W | SEE BELOW | YES | 33 | R62.25 |
| SLET36DC | 49CM | 7.2W | SEE BELOW | YES | 36 | R66.00 |
| SLET39DC | 53CM | 7.8W | SEE BELOW | YES | 39 | R69.75 |
| SLET42DC | 57CM | 8.4W | SEE BELOW | YES | 42 | R73.50 |
| SLET45DC | 62CM | 9W | SEE BELOW | YES | 45 | R77.25 |
| SLET48DC | 66CM | 9.6W | SEE BELOW | YES | 48 | R81.00 |
| SLET51DC | 70CM | 10.2W | SEE BELOW | YES | 51 | R84.75 |
| SLET54DC | 75CM | 10.8W | SEE BELOW | YES | 54 | R88.50 |
| SLET57DC | 79CM | 11.4W | SEE BELOW | YES | 57 | R92.25 |
| SLET60DC | 83CM | 12W | SEE BELOW | YES | 60 | R96.00 |
| SLET63DC | 88CM | 12.6W | SEE BELOW | YES | 63 | R99.75 |
| SLET66DC | 92CM | 13.2W | SEE BELOW | YES | 66 | R103.50 |
| SLET69DC | 96CM | 13.8W | SEE BELOW | YES | 69 | R107.25 |
| SLET72DC | 100CM | 14.4W | SEE BELOW | YES | 72 | R111.00 |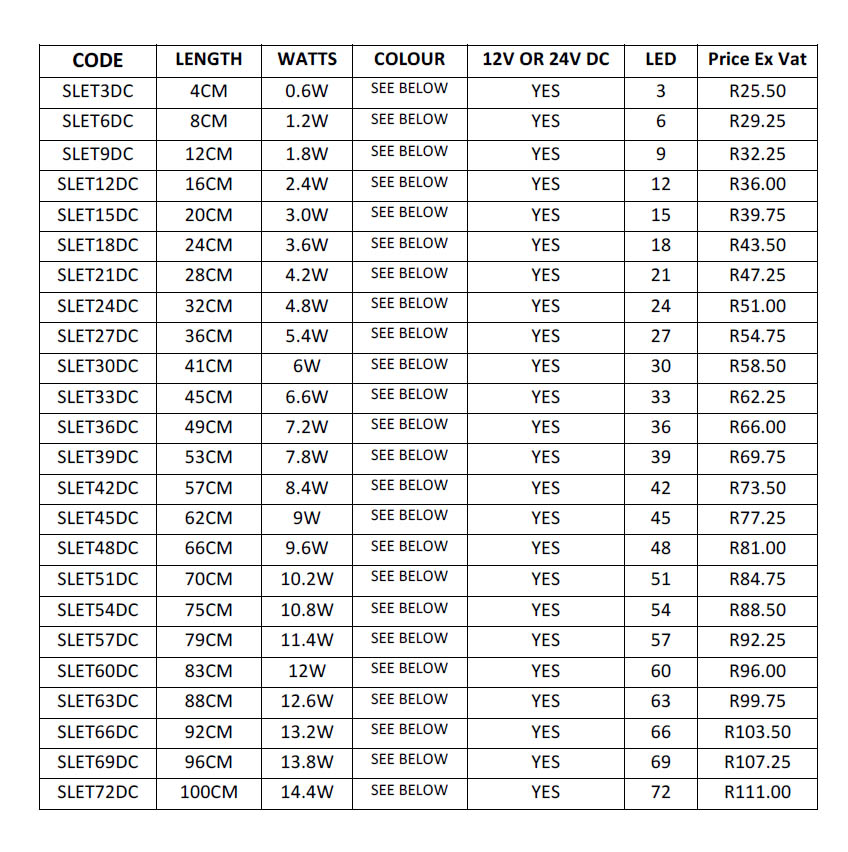 GL lighting range of 12V AND 24V DC LED replacement bulbs. These strips come in 4cm to 100cm length. They come in 6000k cool white
5000k Day light, 4000k natural white,3000k warm white. They are also avaliable in Red, Blue, Green, Amber. We are based in Edenvale
Johannesburg South Africa. We supply LED lighting to, Southern Africa including Zambia, Botswana , Mozambique , Namibia we also
supply to the South Africa, Cape Town, Durban Pretoria Richards Bay. These LED replacement bulbs come with a 20 000hr come warranty.
Please do not hesitate to contact GL lighting at tubelights.co.za should you have any question.